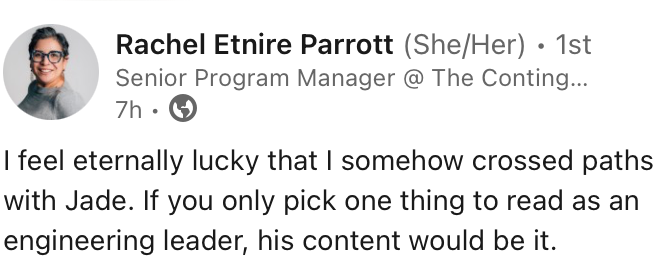 Read by leaders from Salesforce, Gitlab, Slack, Netlify, and many other companies.
👋 Hi, I'm Jade Rubick.
I help 💻 startups and medium sized companies on how to organize people 🧑‍🦰 to build great things together 🚀.
When you subscribe ✨ Engineering Leadership Weekly, you will receive an email 📧 each week with something that should be useful.
The most common themes in my writing are principles and constraints that govern how we work together, humane/sustainable management, and incremental/feedback rich product development. But you'll see writing on many topics, including diversity/equity/inclusion, engineering standards, running projects, and communication.
I offer a paid version 💰 of this course. This supports 💚 my writing -- the more support I get, the more I'll be able to write. Use your "professional development" budget: pay for it and expense it. I've been so thankful 🙏 for the support! Although most of the material is the same, the paid version offers additional benefits, such as an optional 1-1 session. You can read more about the paid courses here.
Engineering leadership weekly (paid)
You can also follow my writing in other ways: